Happy Halibut Hunting
with D.C. Reid
---
One of the nice things about living in British Columbia is its combination of civilization and wilderness . While metropolitan Vancouver offers the services of a 20th century world city to a province of nearly 4,000,000 peope, a great deal of territory - several times the size of the United Kingdom - remains in the same wild, untouched state unfurled by the retreating ice age 12,000 years ago. This pristine character is the reason for quality fishing: fish need clear, clean water and abundant supplies of food.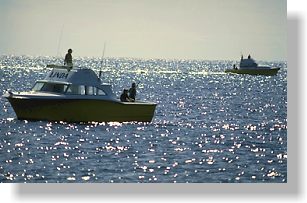 As a person who fishes almost exclusively for salmon, I forget that around our shores, from the capital city of Victoria to the top end of the Queen Charlotte Islands, a very large population of groundfish exist: 37 species of rockcod , lingcod , flounder, sole, and halibut . And as most local fishers concentrate on salmon, pressure on other gamefish remains low in many fishing locales, particularly those facing the open Pacific Ocean.
Halibut top the list of predators and quarry.The major carnivore of the Pacific northwest, halibut reach immense size in their 40 - 50 year lives: the largest sport caught halibut - 459 pounds - was recorded just last year in Unalaska, Alaska. Many more 200 - 300 pounders are gliding the dim sea bottoms waiting for the fishers' lure. And eat they do in huge quantities, swallowing their smaller brothers and ten pound salmon in the same breakfast.
Whether they have landed one or not, most fishers can attest to the size of large halibut. It is common on the more open waters of Vancouver Island to hook halibut exceeding 200 pounds. These monsters are virtually all females, perhaps because they need the girth to carry 4,000,000 eggs. Many an angler tells the tale of hooking somethng so large it seems like the bottom has just moved off, towing the boat as though it were a float. Sometimes the line snaps and the "butt" steams off as though nothing has happened.
Even when lifted from the bottom, subdued and harpooned, halibut have been known, once brought on board, to thrash so violently that legs are broken and boats are knocked to pieces. Little wonder most fishers hogtie them in thick line and tow them back to harbour rather than risk bringing them on board. I once watched a halibut, descend with 50 feet of line, a large pink float and simply disappear. The float resurfaced briefly 35 miles from where it had been attached resolutely gliding out to sea. These fish have staggering power and their huge fillets of bone-free white meat, justifiably known as chicken of the sea, are prized as steaks in five star restaurants everywhere.
For the avid angler, it is worth the price of the ticket to travel from anywhere in the world to tangle with one of these huge fish; record slabs are still out there for the catching. On my most recent halibut trip we landed 8 in a morning's fish - the largest over 50 pounds - and spent two hours filletting at the dock. At the end though one of the many fillets lay out on my arm, weighing in at almost 20 pounds (9 kg). This tub of chow, when stored in vacuum-packed plastic in the freezer, will keep for months. For the angler from offshore, fear not, blast-frozen halibut, properly packed in styrofoam containers, will be rock solid when you step off the jet in your local airport.
Anglers know to concentrate fishing efforts in deep waters, 200 - 300 feet deep. This necessitates pouring over marine charts, a global positioning system (GPS) - halibut prefer absolutely precise piles of rock and when one is taken another will soon move in - and heavy gear. A stout 6 - 7 foot American-style fishing pole with a level-wind reel bearing a minimum 800' of 60 pound braided- nylon line is a must.
Various wiggley squiggley octopus-resembling rubber lures dominate the market. Added to these is the Spinnow variety which lists sound as an attribute; bouncing the lure on the bottom will bring halibut in from all around the lure. Scent can be more important than sound. The chief baits are herring, salmon heads and guts, octopus, cod and crab. Add a chunk of octopus to the hook of any artificial lure, and the chumming will be easily smelled by halibut. Hooks employed are large, some would say huge: as large as 10/0. Use glow in the dark hootchie skirts, orange and red and green. Other common lures included the Dart, Zzinger and Stinger.
It is best to fish directly under the boat. Once a line begins descending at an angle, line drag prevents the lure from reaching the bottom where the big fatties lie. Using a 1 - 2 pound weight, let the line strip straight down. Once the bottom is reached, reel a few feet, then raise and lower the lure methodically, making sure to thunk the bottom at least every 30 seconds. When you receive a strike, which resembles the nonchalant moving-off of an elephant, mark the spot on your GPS. On subsequent fishing trips, return to that exact mark in an otherwise featureless watery environ as much as 20 miles offshore and you will be rewarded.
Most people come to British Columbia to fish for salmon or steelhead. Many leave hooked on halibut. In future columns, I will review specific techniques in specific areas. One, for instance, the English know as a paternoster. On the west coast it is referred to as a spreader bar and bears a whole herring, often the best bait for the monsters of the deep.